When Will the Maserati Limited Edition Grecale PrimaSerie Be Released?

Will the Maserati Grecale PrimaSerie Be Sold in the United States?
Maserati and its impeccable styling and sophistication will be on full display in the automaker's brand-new SUV, the Grecale. To celebrate the arrival of this new vehicle, Maserati is manufacturing a number of limited-edition versions – dubbed the PrimaSerie ("first") – when it's released in the fall of 2022. But will the Maserati Grecale PrimaSerie be sold in the United States? You may be pleased to know that you won't have to travel abroad to climb behind the wheel, since it will be available in North America. Read ahead for what else we know about this exquisite new vehicle ahead of its release. 
View Our Current Inventory of New Maserati Models
Customization Through the Fuoriserie Program
If you haven't heard, the Maserati Fuoriserie customization program allows discerning drivers to create one-of-a-kind Maserati vehicles that draw inspiration from the driver's own personality and tastes, broadcasting the uniqueness to envious onlookers. Pre-configured colors and features will be on the offering this time, bringing the Grecale and Fuoriserie to a new level.
Two Versions of the Grecale PrimaSerie
Just 325 vehicles in total will be produced for the North American market, and they'll be split up between two specific iterations: the top-of-the-line Grecale Trofeo and the Grecale Modena.
The Grecale Trofeo is equipped with a Nettuno V6 engine capable of delivering a pulse-pounding 523 horsepower. Its Giallo Corse yellow quad-coat paint is sure to stand out among the crowd, and the red-gloss brake calipers will pop.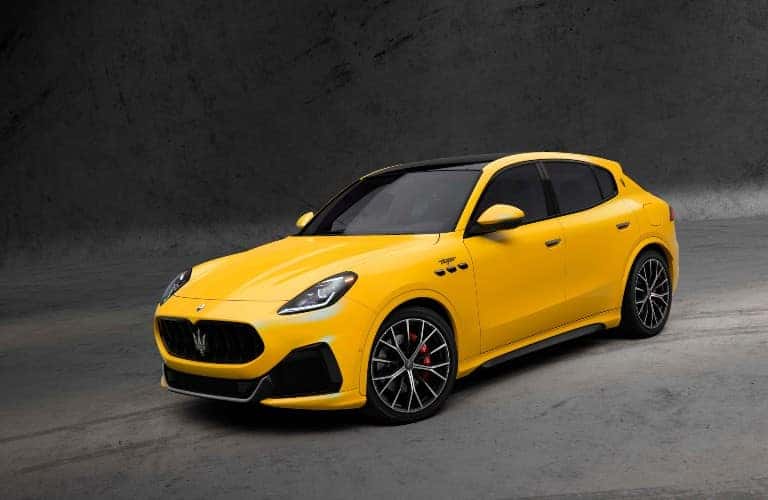 Inside, drivers will find a cockpit with black interior material and 3D carbon trim and a custom trident headrest, which is unique to the PrimaSerie. The premium plus package includes a heated steering wheel and windshield wiper nozzles, ventilated front seats, heated rear seats, and even a crisp premium Sonus faber audio system consisting of a whopping 21 speakers. The interior cargo area offers rails on the floor as well as a power outlet.
Next up is the Grecale Modena, equipped with a mild-hybrid four-cylinder engine that delivers 325 horsepower. Bianco Astro metallic, Blu Nobile tri-coat, and Grigio Cangiante tri-coat are the exterior colors available to choose. Inside, a stunning Rosso interior with Grigio stitch and a trident PrimaSerie headrest stitch make for a welcoming interior, while the premium plus package and its sport power seats, ventilated front seats, heated rear seats, and more are sure to wow drivers.
The Maserati Grecale PrimaSerie ships soon. What are you looking forward to the most? Sound off in the comments! Please feel free to contact us any time for questions about this or any other model. In the meantime, if you're a current Maserati owner and it's time for service, you can count on Rairdon's Maserati of Kirkland to treat your Maserati model with the utmost care. We invite you to schedule a service appointment with one of our skilled technicians at your leisure.